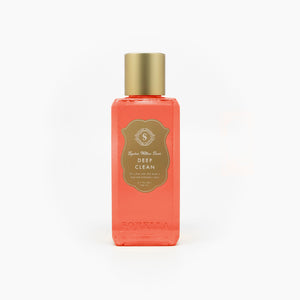 Banish blemishes with this cooling and oil-reducing cleanser that calms your skin while preventing future breakouts. Your skin will thank you, and you'll thank special berry extracts for brightening and evening your skin tone!
HOW TO USE
Apply to wet face and massage for 1-3 minutes, avoiding the eye area. Rinse and follow with your favorite Sorella Apothecary toner. Start with daily usage and reduce if bothersome dryness, irritation or peeling occurs.
BENEFITS
Perfectly cleanses and gently exfoliates
Gently removes excess surface oil and bacteria
Treats post inflammatory hyperpigmentation
Dissolves dead skin cells which helps to soften fine lines and wrinkles
SKIN CONCERNS
Dry/Dehydrated
Normal
Combination
Oily
Dull
Dark Spots
Aging
Preventative Aging
Clogged Pores
Sporadic Breakouts
Frequent Breakouts
Severe Breakouts 
Pre-treatment
KEY INGREDIENTS
Willow Bark Extract
A natural BHA exfoliant and pore minimizer that helps shed dead skin cells and gently increases cell turnover.
Bearberry Extract
This natural skin lightener balances and brightens the skin, while providing additional antioxidants.
Mulberry Extract
Skin tone appears even with less discoloration thanks to inhibited melanin production.
Glycerin
Provides long-lasting, intense moisture retention – we're talking weeks, not days.
Peppermint
Wake your skin and senses with increased circulation! Fresh nutrients = fresh face.
Green Tea
Get zen with a potent antioxidant that soothes skin and boasts anti-inflammatory and antibacterial powers.
Vitamin E
The ultimate protector: This skincare essential aids in healing the skin, boosts UV defense, prevents dryness and works as an antioxidant.