A few announcements...
Online booking has been disabled due to booking capacity. I typically book 6 months in advance and am unable to accommodate new clients at this time. I am grateful for your support and interest in taking care of your skin!
If you are a current client that needs to adjust an appointment, please contact me andrea@soleyskin.com to schedule or be added to the cancellation list.
At this time, I am not accepting new clients, unless you have received a gift card.
Gift cards are available for purchase for current clients only by emailing andrea@soleyskin.com.
Please allow for a 72 hour grace period on all communication, as I am the sole operator.
Thank you for your support and understanding!
your skin is my specialty
Sóley Skin Studio is a boutique spa located in the heart of downtown Fredericksburg, VA. Facial treatments are focused to anti-aging, acne care, guasha, and advanced therapies to truly offer old and new technologies to offer you the best experience possible. 
Sóley Skin Studio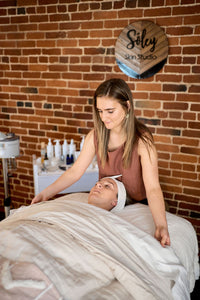 About Sóley Skin Studio
I owe it to my maternal grandmother, who was a beautician in Iceland, and her elegance for the inspiration. When I was growing up, I'd spend my summers in Iceland with my grandparents and I remember picking buttercups for her. There is a strong connection to nature in Icelandic culture and I hope to bring that special connection into the treatments I do for you.  This connection to nature runs deep in Icelandic culture and I hope to inspire you to find your own connection through a true holistic experience, plant derived products, and mindful practice. There is more to this business than just providing facials. I hope to inspire you in the bigger picture of life; find beauty in the world, appreciate the little things, and understand the integration of everything. I am blessed to know each and every person that comes through my doors and I cannot wait for the journey to continue. See you at Sóley!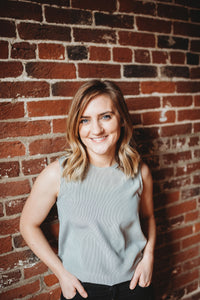 About the owner
Andrea is a licensed Master Esthetician in Virginia and also holds a Master of Science in Nutrition Education. She has received extensive continuing education and is also a certified Holistic practitioner under the direction and training of Dr. Erin Madigan Fleck, and a Certified Acne Specialist through Face Reality Acne Clinic. 
​
Andrea has experience working in holistic, salon, and clinical dermatology settings. Her knowledge of skin and first hand experience in medical settings giver her a unique perspective on treating skin. She believes in the wholistic approach to skincare in that mind, body, nutrition, and self care practices are all requisites to healthy,  glowing skin.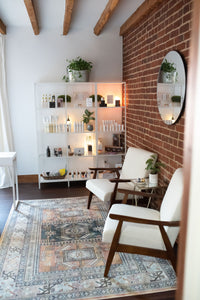 Featured Products
Sóley Skin Studio features a variety of professional skincare products. A few featured lines include Face Reality, Sorella Apothecary, and Cosmedix, as well as select seasonal indie lines. Each product line is thoughtfully chosen in order to provide you the best in the industry. Sustainable packaging, ethical sourcing, effective ingredients, and cruelty free brands are always at the top of our priority. 
"Professional! Relaxing and DEFINITELY high quality service! HIGHLY recommended. I've worked in the aesthetic industry for over 10 years and I can tell you Andrea is a GEM!"

Mattie W.
Andrea is simply the best at what she does. You can ask her anything about skin care and she will have an answer for you. Super relaxing environment, to the point of me falling asleep. I always leave feeling beautiful and refreshed. Can not recommend enough.

Danielle B.
Best facial I've ever had! Andrea's product knowledge and ability to customize my facial to whatever my skin needs is much appreciated. She has done extensive research as to available products for home care, and offers only the best.

Melody W.

Andrea Pomrenke, MS, LME
Beautiful skin is achieved when you value the importance of self care through healthy eating, exercise, and ritual hygiene.