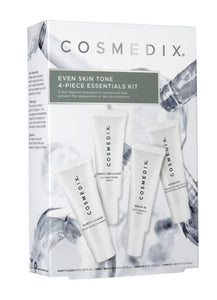 Get a Brighter, More Even-Toned Complexion
It's time to get even. Fight back against discoloration, hyperpigmentation and sun spots with a gentle brightening kit that is safe to use day and night. This kit helps restore the skin to its natural, even tone without leaving it splotchy – making it the perfect brightening regimen for all skin tones.

WHAT'S INSIDE?
Purity Clean | EXFOLIATING CLEANSERExfoliates, decongests pores and cleanses skin of surface oil and impurities.
Simply Brilliant | 24/7 BRIGHTENING TREATMENT Fight the look of discoloration with ten skin-specific brightening ingredients while aiding in the prevention of future sunlight-induced pigmentation.
Serum 16 | RAPID RENEWAL SERUMDramatically reduces the look of fine lines and wrinkles with LG-Retinex – a rapid-renewal retinol complex gentle enough for dry, sensitive skin – to renew the complexion with amazing results.
Hydrate+ | BROAD SPECTRUM SPF 17 MOISTURIZING SUNSCREEN A moisturizing, daily sunscreen with broad spectrum protection and antioxidants.