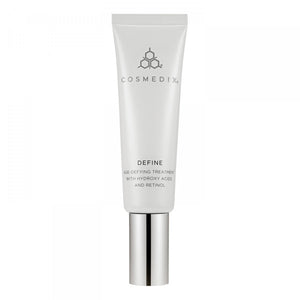 Age-defying treatment with hydroxy acids and retinol
This rich, exfoliating and multitasking cream gently resurfaces and hydrates the skin. Define exfoliates multiple layers of the skin while delivering 2% AGP Complex deep into the skin. 
Skin Type: All skin types
Skin Concern: Dehydrated/dry, uneven skin tone, fine lines + wrinkles
Key Ingredients: L-Lactic, L-Tartaric Acid, L-Malic Acid, Vitamin E, 2% AGP Retinol Complex
Use 2-4 times a week at night as tolerated.